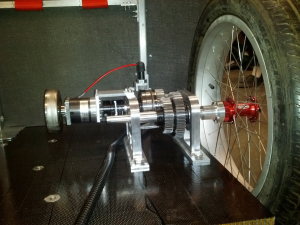 Abstract
The UBC Supermileage team has competed in the Urban Concept Gasoline category of the Shell Eco-Marathon Americas competition since 2008. Previously, the drivetrain has been comprised of a centrifugal clutch mounted to the engine with a chain and sprocket system transferring power to the drive wheel while reducing the speed. While this method has proven to be robust and easy to maintain, it has had its disadvantages. The goal of this capstone project was to redesign the drivetrain to improve the fuel efficiency of the urban concept vehicle and improve its performance at the EcoMarathon Americas competition in 2015. The scope of the project was to achieve this goal by implementing existing technologies in new and creative ways.
In the end, the team successfully designed and built one of the first, if not the first, two-speed transmissions to be implemented at the Eco-Marathon competition. The final design was a 2-stage, 2-speed, overdriving transmission using a custom centrifugal clutch, a planetary gearbox, an electromagnetic clutch, spur gears, and sprag clutches. The planetary gearbox served as the first stage of speed reduction, and the combination of the electromagnetic clutch, spur gears and sprag clutches allowed for a high torque first gear that could be overdriven by a lower torque, higher speed second gear by engaging the clutch.
Technical paper
View Technical paper.