In the inaugural year, 2009-2010, APSC 496 hosted two projects in the biomedical and rehabilitation sectors:
Praxim, a leading innovator in orthopedic surgery equipment, sponsored a project to develop a robotic surgical aid for more accurate patella shaping in total knee replacements.The 5-person team of EECE and MECH students designed a novel geometry device and developed the controls and computer software in this proof-of-concept prototype.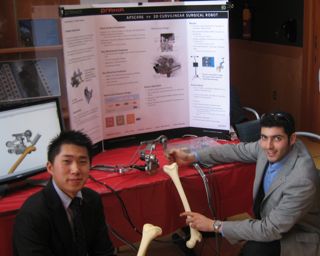 The Vancouver-based ALS Society of British Columbia, ALSBC, sponsored a 7-person project team to develop a second-generation motorized neck brace for persons with advanced ALS.  The brace, based on the design of a previous year's MECH capstone project, was controlled by the eye movements of the brace wearer captured by a low-cost eye gaze tracker.